Post by vincentchandler on Jan 14, 2014 16:46:47 GMT -5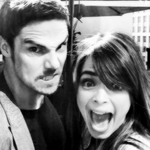 Maybe The CW doesn't have an interest in saving the show. After all, this is television and they work for money, not love.
But to say that they invested millions of dollars and went to the trouble to find a new show runner only to have the show failing so they could take it from their schedule is being naïve.
As I understood from something I read as soon as the new time slot was announced (and people might correct me if I'm wrong, I don't mind), The CW put Beauty and the Beast on Mondays exactly due to its passionate fanbase, expecting to increase their ratings on a night known as difficult.
The fact that they failed to achieve their objective doesn't mean they ever intented to destroy the show or get rid of it. If they wanted that, they would simply cancel it like they did with The Secret Circle.
Do I think they made a bad decision? Yes. Do I think they made it with the single purpose of getting rid of it? Hell, no! It would be pretty stupid of them.