Post by bbat on Oct 26, 2015 11:31:45 GMT -5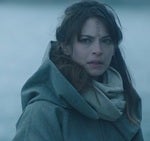 If you go back and read the S1 episode threads, the show seemed to lose much of its appeal for a number of people because of the way Vincent was written during the Alex arc. Then when VinCat got together, there was much complaining about the repetitive normal normal normal dialogue, how come there wasn't another AMP type scene especially in Date Night, killing off of Evan, terrible season 1 finale, not epic at all and so S2 premieres to only a 0.3
Not that it matters anymore but CBS Studios Crazy Ex-Girlfriend premiered to an unrounded demo of 0.274 and its 2nd episode came in at 0.270 and 790k viewers. To be fair, the show was pre-empted in NY (the #1 market) but when your viewing numbers are low to begin with, there aren't too many people watching in any market to begin with. Considering it was the only show to debut this fall on the CW and had a metacritic score 44 points higher than Beauty's, those numbers are horrible. Friday's episode of Reign has a prelim. demo of 02. (unrounded 0.236) and 930,000 viewers with ANTM at 0.2 (unrounded 0.244) and only 730,000 viewers. This won't get Beauty a season 5, but at least our S3 numbers don't look so bad, especially considering that these show aren't being shown 4 days earlier in Canada.
I can understand why a lot of people got upset during the Alex arc. My own feelings at the time were quite dark, too, but I was hooked by then and way to deeply invested into the story and our lead couple to give up that easily. Apparently, many other people just did not feel that deeply about it YET. I guess the producers threw that Alex road block up in order to delay VinCat getting together even sooner, but it could have been written a lot better than it was. At times it felt as if the writers had written themselves into a corner and they did not really know how to get out of it again, so some of the dialogue was really questionable. Like Vincent telling Catherine that even though he planned to go away with Alex, it was 'not happlily'! What kind of crappy line is that? He would have been unhappy with Alex in Mexico, but he was going anyway and thereby making BOTH women and himself unhappy? Who would do something like this?
Anyway, done and dusted and over. I still consider S1 MAGICAL and the plot holes in there are adorable, compared to the ones in the following seasons. Towards the end of S1 the repetitive words got quite grating on the nerves, I agree, but still not as bad as all the rehashing of phantom issues we got in the beginning of S3. And at least they did not sit around at the beginning of the episodes and explained to each other - or sometimes Heather, Tess or JT - what has happened in the previous episode. Also, we got to SEE their special, epic love and we did not have to listen to all and sundry TELL us about how wonderful, special and epic they are. Oh, and I have given up hoping for another AMP-ish love scene. It would have been nice to see some more of that - sure - but would that have helped the ratings? Doubtful, since it seems once viewers left, they did NOT come back for a second look.
Thank you, that's how I feel about season 1 and what followed described in a nutshell!
I think after ratings dropped further towards the end of season 1 CBS and The CW tried to react, but they misjudged the reasons and made all the wrong decisions.
While I hoped some of the criticism about the partially bad or awkward dialogue had reached their ears and that they exchanged these many writers/producers to improve dialogue quality, it turned out they thought season 1 was lacking in the action and mythology department. So Brad Kern took out many elements of season 1, but his "replacements" were in no way better.
While you could still see Sherri Cooper and Jennifer Levin's handwriting in s02, even that was gone in s03, and all we were left with was unimaginative writing and a false understanding of "romance", IMO.
One would think the lines couldn't get more repetitive than they were already in season 2, but they really outdid themselves in s03. The constant repetition of dialogue and themes was so off putting for me, that I couldn't bring myself to watch an episode twice, sometimes I even waited a few days to watch a new episode.
I will never understand why no one realizes something like this during production. Or, couldn't the actors point it out to the writers? If I would receive scripts like this, I certainly would complain about having to say the same lines and words over and over again, lol.
OK, so now I've expressed my disappointment with season 03.
For me there were only 2 or 3 well paced and kind of gripping episodes, and only a few scenes I really liked and wanted to rewatch.
After every season I hope they learned from previous mistakes, but so far every time it only got worse, so I don't expect anything from season 04 anymore. But as they say, hope dies last, and I will stick to this show till the end anyway