Post by jefferen on Oct 29, 2014 8:03:09 GMT -5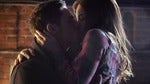 Isn't there a way to contol his beast side - we saw in Operation Fake Date - the wristband?
Actually the wristband in 2x21 knocked him out once he started to beast out or his heart rate got to high. I dont thinkV getting knocked out would be the best decision at a party. He needs to wear the gem so he doesnt beast out. Hopefully VinCat took it off Gabe before the cops arrived in 2x22.