Post by vanillasky on Feb 8, 2014 15:38:39 GMT -5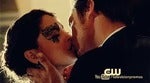 I think we can all agree that, as disappointed as the fandom might be with the show, the hope for S3 is still alive in us. That's why we're still worried about Tori. The writers broke the trust the fandom had on them. A big part of it don't believe that they'll be as faithful to us as we have been to them. So, everyone is waiting for the blow. If he get S3, who can be sure they won't bring her back to destroy Vincent and Catherine's relationship again and, in the process, destroy the show? A few years back, there was a show with a faithful fandom, too. The main couple was more than endearing and it was also a story of impossible love between a female human and a male non human. Out of nowhere, a female non human appeared and you can guess what happened. The female non human got pregnant and that destroyed the show. It lasted only one more season, but the damage was so severe that they simply cut the story in the middle and ended the show. In a fandom as small as BatB's, Tori returning pregnant would probably make the show end in mid season. That's why this window for Tori's return is so worrisome.
I'm just curious, but are you talking about Roswell? It was more than a few years ago but the story you describe sounds just like it… I remember talking about this concept, similar to Roswell complete with pregnancy and compared it to where I thought things were headed with Tori on BATB. Everyone was horrified, in the beginning, but look where we are now? I feel like our chances for a S3 are pretty limited right now, but I think Tori is going to be a problem if there is a season 3. And I do feel like there is going to be a pregnant Tori, I feel so strongly about this that I am tempted to launch a twitter campaign against it to the writers, because if we break the story 6-10 episodes before it happens and protest, maybe we can nip that idea in the bud. Anyway, I see no reason for the Vin/Tori sex if not to produce a beast baby. Any such child could be a problem throughout the remainder of the series to protect, and an ongoing source of conflict. I don't think Tori's character would be a conflict for a long time because they see how much most of us dislike her. I actually think they cut her story short because of her unpopularity. Anyway, she was unpopular when she was just a concept… I don't know why they actually went there…
As for what I was getting at, this little thread keeps popping up as active on my news feed, and each time I see the words
"How do you think Tori's story will end,"
I think to myself
"BADLY."
So there was nothing more to tell. It was more like a little joke about how I feel about Tori's character arc. It was destined to end badly if you ask me.
Yes, it's Roswel. I used the term few years just for effect. Well, I'm positive you should start this campaign. I'll be the first one to thread with you if you do it. Better save than sorry with Brad Kern. Although, I think there was a very active campaign against love triangles and specially Vincent and Catherine having sex with other people and look where we're now. The ratings in the beginning of the season should be indication enough to him, but I think he was really aiming for other audience so it didn't bother him to lose S1's beasties. I don't think Kern is a little bit concerned with what his concepts can do to the show, but we can always try.