Post by VinCat-3.0 on Jun 24, 2013 7:35:08 GMT -5
Okay I'm opening this thread with the NEWS of the day..week and month for that matter LOL!!
NOTE: THIS MAG IS LIKE AN IN TOUCH MAGAZINE TYPE BUT IT WAS POSTED ON MSNNZ.COM TAKE IT AS YOU WILL!It's a Girl for Jay
Woman's Day features Jay Ryan (formerly from Go Girls who is now on the TV series Beauty and the Beast) has a kid. Not that we knew much about his personal life but we didn't even know he had a girlfriend (FYI her name is Dianna, she's 39 and they've been on-and-off for 13 years). It's mostly 'awwwww' type pics of him cuddling up to baby Eve but of course it wouldn't be a good story without one legendary quote and here it is: A pal says [of Dianna], "She's a writer, so it's great so she can take her work anywhere with her". Smart stuff.
Congrats to HIM!!
Ha! it seems the guys on the show had girls! LOOK AT MAX a girl too
@suga_Magazine 3m Samoan & Pacific womens magazine #fashion #beauty #lifestyle #SOLE & much more! Inspire. Celebrate. Empower.
Kiwi Actor & Beauty & the Beast star Jay Ryan reveals his new baby girl - and she's a SUGA baby! Congrats!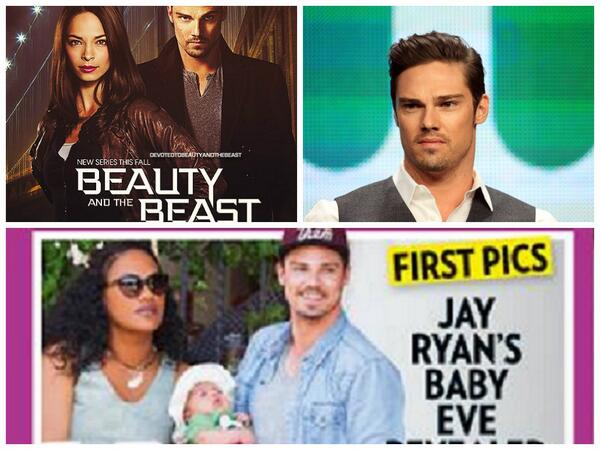 Okay I have a few things to say...The DUDE looks so happy holding that little girl! His smile says it all doesn't it?? I am so happy for them really
But you know what it makes him more sexy LOL...I'm sorry I am not being disrespectful..There's nothing more beautiful then a man holding his child with such a smile!
Yolie
Glad I could bring you all the news!
PS: I love the baby's name
EVE
!
Um here's Jay with Dianna she's the one on the right of the picture
This is all news coming out of twitter and SUMA magazine
She's the writer and director of
The Packer
that one man play Jay did. They have been friends for many years
The magazine has a release date of July 1 meaning it can be released sometime this week or the week of July 1ST!
It is said that there are pictures inside of Jay holding and cuddling the baby! I WANT TO SEE THAT!
As soon as I find them (just a matter of time before I do) I will post them!!