Post by Bunny21 on Nov 4, 2013 1:28:40 GMT -5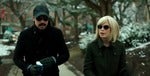 I thought V was quick to forgive Zach for attacking Cat. I found that irritating. Look how long it's taking for V to trust Cat and all of a sudden, one memory and Zach is a "good guy". I feel like the writers are neglecting JT and V's friendship. Yes, they had a movie night in this episode but V still doesn't remember him. The writers had V remember his entire friendship with Zach before he remembers even 1 memory of JT. Really? The look on JT's face. And then when V told JT he can go home, ugh! I get it's a small detail but really?
I dunno, I need to rewatch it.
Yes he was quick to seemingly forgive Zach I was slightly ticked off there. But I see it as V just getting his memories back so sudden, finding a new friend and wanting to reconnect and get more memories. Even when he slighted JT at the bar (not good V) I think he wanted to try and bond with Zach to gain more memories. I can only imagine how that feels to get a memory flash and just wanting to do whatever it takes to regain more memories. That's how I saw that scene.
But more Vincent and JT time is necessary. I think they are purposefully having him remember Zach because he was the beast of the week and he had not have some initial conflict about killing him.
I see your POV and when you look at it that way, showing initial conflict and that desire to gain more memories is part of his character development. I just wish he was that desperate to remember JT too.