Post by bookworm on Oct 28, 2013 7:59:59 GMT -5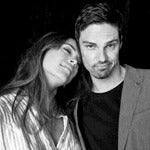 I happy that so far everyone liked the episode. I think the show is getting better and better. None of the four ep disappointed me at all. Poor Vincent beaten up for the second time again. Not so "super soldier"-ish... haha I really liked the small kisses. I was not prepared for that so it was a good surprise. Not like in the first season we always knew when a kiss was about to happen. The hand holding at the end was great! Also I didn't find the line "hopefully together" cheesy this time. Loving the effects in season 2!!! When Vincent was explaining his flashbacks to Catherine in the boathouse... wow... that was well done! Oh, and Gabe telling Vincent he wanted to kill him four months ago... yeah, Gabe be honest or you'll end up dead. About Reynolds... they are doing a pretty good job not revealing whether he is a good guy or a bad guy just like we didn't know that about Gabe in the first season. Can't wait to find out more about his agenda. What else? Ah, yeah the opening scene when Catherine beats up the guy in the bar. Sorry, but I liked that! Men are like that don't get when you are telling them things nicely. He deserved it! haha Not sure I have to mention the Vincent working out scene... ahem... Sorry for the random thoughts.
Thanks for asking I'm very well!

Actually very pleased with this ep! I enjoyed it because it had a lot of elements which were missing or different last week.
So much for VinCat trying to staying away!
I'm happy they are on the right track to get back to where they were.
I liked what everybody else liked in Hothead: all the lovely Vincat time. I think they have started to rebuild the trust and Vincent is clearly into her a lot! The kissing part was as you said unexpected but beautiful and romantic.
And I agree the last scene was like good old VinCat scenes from S1, not cheesy but
I loved the scene where V was in hospital. His answer 'More than anything' seemed really honest. His eyes were so sad there. He's getting back his humanity. He wants to be "human", he wants to belong to Catherine.
It's a pity we never had these kind of flashbacks in S1 about his family but now we've got some. I liked how this fight in the fire brought back his memories as a fireman. That was a surprise for me!
Who knew?
I don't mind Gabe and Reynolds playing their games because it's going to be fun to see if they have bad intentions towards Cat or V. Imo if they are up to something bad VinCat as a team will fight back again!
("Us against the world")
The scene at the bar where Cat knocked those people out...
I found it soooo funny. She was a little drunk and provoked by that guy. She's a nerve wreck. I'm not saying she did the right thing but at least she didn't bottle up her anger and frustration this time!
V in a tank shirt...