Post by ckay on Oct 25, 2013 23:56:34 GMT -5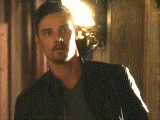 ACT 1 :
Catherine covers up bruise,Heather talks leaving,Vincent confesses to JT about hurting Catherine,Jt gives Vincent highlights of his and Catherine's relationship, Vincent tells JT He'll leave Catherine alone, Agent Tucker calls Vincent he gets killed by another beast, Catherine meets Gabe at a coffee shop to discuss going undercover to find out what's going on with Vincent and Tess calls about another murder by a beast.
First and foremost I have a question about the bruise..First off it wasn't on the side that Vincent pushed her and 2 it wasn't on the side that he did the Vulcan pinch in the previous episode to kidnap her. So how did she get that?I loved the interaction with Heather here, it was genuine and sweet. The scene with Vincent and JT was a powerful one for me..cause it showed two things...Vincent knew that what he did was wrong and two he was truly and sincerely sorry for what he did. In a way I think he was shocked he actual did hurt her. You can see how torn he was for doing so. The way Sebastian killed Tucker was a bit gross but it was cool. Now for a WTF moment LOL Gabe and Catherine? What the FUDGE is Catherine doing telling Gabe that she and Vincent had done the DEED? That was so out of place and so WRONG! Then we have her volunteering her relationship with Vincent and the fact she cares about him to
deceive
him to get to the bottom of everything? To me that is so wrong in so many levels. At that moment she sounded like a vengeful <edited> trying to get back at her boyfriend for hurting her.(sorry folks but that's how I saw that scene) BUT it gets worse as we go along. Tess calls them to tell them about another beast attack.
ACT 2:
A murder in a parking garage, Gabe,Tess and Catherine discuss case think it's Vincent, Gabe tells Tess Catherine's plan to go undercover as Vincent's girlfriend to get information,Agent Reynolds shows up, Catherine gets a call from JT and JT tells her Vincent was just there and told him what he did to her, he alibis Vincent out, Catherine asks Tess to teach her how to cheat on a lie detector since Vincent knows when people lie. Catherine goes to the boat house gets info from computer and Vincent shows up, She discusses the relationship, Vincent apologizes and thinks she's giving him another chance.
From the beginning of the episode I can see the length that Catherine was going to get to the bottom of what was going on. I think that the hardest part to watch other then the end scene was the way she
deceived
Vincent by making him believe she was actually giving him another chance. He makes a date to see her again later that evening and she agrees.Vincent wanted so much another chance with her..It broke my heart when he actually thanked her for giving him another chance. AS Catherine turned and he said that, I truly believe that the realization that he was actually sincere and really believing the lie made her sad. I understand that Vincent isn't the Vincent she knows and loves but for that whole scene I saw that Vincent and not the 2.0 that we will see later on in the episode. I truly felt that the 'pull' that Vincent was feeling in kidnapped was getting harder to resist. Making the Vincent 2.0 more vulnerable for him to begin to open up to her more.
ACT 3:
JT the hacker called on to hack and figure out what the file Catherine took from Vincent computer meant, JT surprised that Catherine has date with Vincent. Catherine tells them it's not a 'real' date, Condor calls Vincent, Vincent begins to question condor,Catherine finds out from Heather about her father, Vincent is at Catherine's with flowers, Vincent senses Catherine's off and leaves abruptly.
Who is Catherine trying to fool here? Does she really believe that she's not emotionally involved with the situation with Vincent? Is she a cop or a scorned girlfriend? I think deep inside she tells herself that she's doing it cause it's her job, but to me, it seems as though she is doing it out for her..I am starting to see that she is trying to make herself believe that what she is doing is cause of her job and not personal ..BUT at this moment she isn't fooling me..Although I don't agree on her method..Then we have Vincent, who cause of Catherine begins to question his mission and the person he is working for. He knows of a list and realizes that maybe he too is really on that list as well. Slowly but surely the walls of his heart are slowly coming down..UNTIL condor once again makes him doubt by a breach..Vincent doesn't know what to feel. Catherine now learns the truth about Thomas and the fact that he's not her father. The way Heather said it and where could have been handled better ..The emotion of it overwhelming though. Then Vincent is at Catherine knocking on her door as Catherine shows up all raddled. Is she raddled cause he's there? Or cause of what she just learned about her father? Vincent already doubting her begins to ask her about her job, she knows he's on to her so she gives him the real deal about finding out about daddy, Vincent senses her sweating and uncomfortableness and then as quickly as he came e leaves. Vincent back at the boat house, retraces the scene of Catherine ..checks his computer and sees the fingerprints from the antiperspirant she applied to cover the sweat. Again Catherine trying to cover her deceit with another lie. At this point I'm

...I mean WTF!!!
ACT 4 :
Catherine and Tess on the phone, Vincent calls Catherine to tell her he had a memory, Catherine calls JT and finds out that Vincent lied to her to get him off his trail, Catherine finds out that Vincent is going to an art auction, Catherine,Gabe and Tess go, Vincent hears her heartbeat, She confronts him about lying about the memories, and she asks him to dance.
This is the part of the episode which I honestly felt for Catherine, that WALL of hers being a cop first comes down quickly, It only took her FUDGE up to realize how hurt Vincent was when he realized she was lying about having another chance with her.
"You should have seen his face when he realized I was lying to him. He thought I was giving him a second chance."
Catherine seemed generally hurt by that..Which leads me to believe that she truly was hoping for some sort of a second chance with Vincent. Tess who is outside looking in kept telling her that she knows she's doing it for the 'boyfriend' aspect of it and not the case. But the tables are now turned when she gets a phone call from Vincent..He now tells her he left so quickly cause he got a memory..A memory of a swimming pool, Catherine gets emotional thinking that he actually had a memory and now had hope that she would get 'her' Vincent back. But when Vincent insists on her going to the hotel pool in an hour she gets suspicious and calls JT who then confirms that he and told Vincent about the pool. Now it turns on her and she doesn't like it..So she figures out that the reason Vincent did that was cause he had to be somewhere else and didn't want her to know where he was going. Catherine shows up at the gallery auction with Gabe and Tess..Vincent senses her there through her heartbeat. She confronts him with the lie about the pool and asks him to dance. This sets the stage for the 'dance scene' in the next act.
ACT 5 :
They dance, Sebastian threatens Catherine, Tess finds out about the hickie or maybe NOT, Sebastian goes after his father, Catherine takes Nigel to the elevator, Elevator fight and Vincent to the rescue, Vincent has flashbacks
.
I don't understand how Catherine could tell Vincent that she lied cause she cared about him..You can't
deceive
someone without having repercussions. What did she think that would happen? That things with Vincent would change overnight? That she would unravel what was done to him and figure out who was behind it? Please lame excuse on her part. Vincent reacted in the way I truly would have myself. He was being defensive so he went for what most people would. Remember that Vincent is still being manipulated by Condor aka Reynolds. The 3 months he was changed by M or Reynolds or for whoever he's working for can't be undone so quickly, Catherine was doing the same thing she did in Who Am I and Kidnapped but in a different form. You can't do that to a person who's programmed to be emotionless and heartless like Vincent was. We know the reasons why Vincent is doing it..BUT what is Catherine's? Love? Revenge?
Then we have the one thing Catherine can depend on when it comes to Vincent 1.0 or 2.0, this man will defend her no matter what! Here she is in an elevator shaft with Sebastian trying to fight him while an unconscious Vincent is awoken by her 'heartbeat' a distressed one. He recovers in time to get into the shaft and as he kicks Sebastian he falls down the shaft almost taking Catherine with him, Vincent reaches out to her hand and holds it tight! There he has flashbacks (Train save, first time in the woods and the their first time on the fire escape. Vincent is brought back from the flashbacks by a Catherine screaming his name Vincent' ..He holds her tight...they break apart..looking at each other, Then he jumps off to go to the bottom of the shaft to see the lifeless body of Sebastian.
ACT 6
: Catherine gives Heather her blessing, Explains that they will always be sisters no matter who their fathers are, Tess confronts Gabe about his feelings for Catherine and the fire escape
I think this was one of the sweetest sistery talks I've seen Catherine and Heather had. I thought it was heartfelt and sad. The fact that Nicole was leaving the show of course had to do with the departure of move to Miami, BUT I truly felt it here...My eyes got teary as the convo went along. It was sweet ending to Heather's character.
Gabe now there's Gabe! LOL! I figured that he would have other motive for wanting to help Catherine out, I truly believe this will be a one way thing..Like with Evan(and look how that ended) I love Gabe's character he's truly very funny and I think they all make great dynamics. I love the interactions between all the characters and YES even Gabe and Catherine. I'm not worried about Gabe YET!!!
Now comes the most heartbreaking scene for me. Two hearts broken and confused. Both for different reasons BUT the outcome or the FEELS the same.
HEre you have a man torn between 'connection' and 'duty' confused, upset and hurt.
Then you have a woman 'in love' and trying to regain what she has 'lost'
How did it come to this? Who's fault is it?
The idea of separation is right at thus point, but is it just?
I think overall they both lost much and each is trying to make sense of it. BUT what I can't take is the fact that BOTH had to go to extremes to try to get what they wanted and in the process they didn't come any closer to the goal but distant themselves further from each other.
It is totally wrong the
deception
that Catherine did thought half f the episode. It wasn't a lie cause she went with the intent to
deceive
him to get info or to get to the bottom of what was going on with Vincent.
Now Vincent's deception came in part by the betrayal of Catherine so as much as he is to blame, I think he wouldn't have gone that route if Catherine wouldn't have pushed him to do so. The same applies to the 'push' in kidnapped. As much as I know it was wrong for him to cross that line..He was 'pushed' to the point of no return. The fact that she didn't give a FUDGE about him getting flashbacks was for this moment the right reaction. She is now numb, doesn't want to hear anything even if it's true. In a way she is also made of herself for stooping so low as she did. Once again, I felt sorry more for him. He is still an innocent in all of this. I remember that this isn't the Vincent we know and love and yet, there are rays of him out and about in some scenes. This one included thus making this scene much more heartbreaking and sad.
THIS is the case at the end of this episode, The deception was the catalyst to the point of no return, The break they need from each other is necessary now so they can both access and realize what is important and if it's worth it.
I don't call what Catherine did as a LIE for a lie you do it when you don't want to get caught. BUT I think she deceived him ..SHE KNEW from the BEGINNING that she wasn't out to give him a second chance.
Deceit
: 1. The act or practice of deceiving; deception.
2. A stratagem; a trick. falseness
Lie
: To convey a false image or impression
To end this post I will say that this episode was so good. What last one didn't get a full 10 cause of the push this one does it for me.
I love the make up of Jay..His Beast now looks so much better. He looks so much better in it too. Love the action sequences and the faster pace of the episodes. This season is totally a different feel, but a feel for the better!
My SHIPPER heart is hoping next week 'our' couple get a little break from the heartache. I hope I do so too!!
Once again thanks for reading my musing, I know many won't agree on what I had to say BUT if we all thought the same, this WORLD would be so black and white
you know yolie I like to read your reviews because most of the time you express mostly what we all think...
And you're completely right IMO, in this episode they're both mistaken and somehow hurt one another.. And I hope like you said in this next episode they will be able to find in a way their unique connection so at least they still know what they mean for each other....I do believe in their love and I hope they will be able to recover what they lost, otherwise we'd be soooo lost without our vincat