Post by BeastieBoy on Feb 2, 2016 17:14:21 GMT -5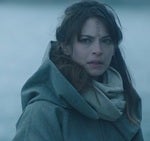 pippin
what other amazing stuff do you have in your secret vault? Loving all this 'creative process' info. They are changing things around all the time it seems. Tyler's scar and profession. The 'new' scar looks rather like she had an operation than she was attacked by a beast. They left her some computer skills, but rather made her a scientist who could help her boyfriend after he murdered Vincent and extract 'what they needed from him'. SHE was not a beast, but she was okay with murdering Vincent in cold blood, so I did not shed a tear when she met a violent death.
There are lots more, especially for the first 2 seasons, but the size limitations for the attachments makes it hard to just upload them. The one for Gabe is interesting but too large to load as is. That one originally had Cat apparently pulling her gun on him cuz he was walking around naked in the women's locker room
I don't even remember Tyler having a scar but then I haven't rewatched many episodes. Maybe she was supposed to be a Muirfield plant and that's why Bob just gunned her down on the street They didn't flesh out her character, but then she didn't last long. I wonder if that actress is under contract with the CW or something.
She came from One Tree Hill then starred in their Messenger series and now is on The Flash
. To be honest, acting wise, I thought she was one of the weaker guest stars.
I've noticed that too. It's like someone at the CW must like her. I think her story arc on the Flash is now over. I wonder which CW show she'll pop up on next. Regarding Tyler's scar, I always thought it was from some kind of Murfield operation, that's why she was working with Gabe.