Post by pippin on Jul 29, 2015 1:08:00 GMT -5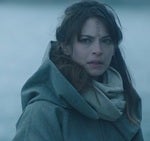 What I enjoyed:
Vincent's speech outside the church - I thought it was the only scene that was somewhat emotional.
I thought it was cute that Cat and Heather slept together and Cat hit her with the pillow, but what happened to Heather's old bedroom.
Thought Heather was funny in her phone conversation with Vincent. "Yes" "That would be bad" "Understood" "OK Bye-bye."
JT telling Juliana she was a pain in the ass and shooting her with the tranq, although she seemed to wake up quicker then Vincent has in the past
JT and Heather showing some promising scene chemistry -- "And by we, I mean you." "Wait, why me?"
JT and Tess's discreet conversation as they walked down the aisle-- "What do we do?" "Pray"
Cat's hair, except for the wedding do and KK's ability to look great even with a "bloody" nose and busted lip
Fight in the limo - but how did Juliana stay hidden right outside the precinct when everyone was supposed to be looking for her and she seemed to recover very quickly and fight rather well for someone who had just woken from a coma
Way Liam killed Juliana -- appropriately brutal and gruesome
The odd parts:
Heather seemed to have acquired a bit of JT, even had a line about an ulcer and since when is she the worry wart of the sisters?
Tess was Cat in their precinct scene
Vincent was Cat in their end scene
Cat is apparently made of tougher skin than Vincent and heals quicker
Why didn't Vincent beast out? Is he too much in love and at peace now?
Doctor Vincent isn't the one to check out the injured evidence guy
Cat is concerned about Vincent at the church but then just leaves and doesn't seem concerned about his physical well-being even though he still looks beat up?
Heather says Cats father is in prison. No Cat's father is dead. Heather even referred to their father in Chasing Ghosts as
their
dad
With only 5 people at the rehearsal, why were there all those people at the rehearsal dinner?
Who were all those people at the church and where were Cat's aunts? Did they refuse to come to the wedding after her outburst at the shower?
I think most pf the people at the rehearsal dinner were cops from the precinct. They wouldn't invite them all to the rehearsal. That's just the main people: bride and groom, best man, bridesmaids and parents.
Also, Cat's father IS in prison. Thomas Chandler was her step-father who adopted her but Bob Reynolds is her ACTUAL father. Heather referred to Thomas as being their Dad in Chasing Ghosts because he is HER Dad.
I thought that the rehearsal dinner was for people who were actually in the wedding party -- those that had to rehearse for the ceremony -- and maybe grandma and grandpa. Personally, I think the show was cheating because they knew there wasn't going to be a reception after the wedding, but they wanted to have that type of scene and have JT make his speech, etc. but then I don't think I've ever been to more then one rehearsal dinner so I really don't know who actually gets invited to those things.
Maybe adoptees feel different, but Dad/Father, unless the guy is the kids grandpa or uncle, I think the person that raises the kid is the dad or father, especially if he adopted the child when he/she was a baby.I think of step-dad / step-father as a man who has married a kid's mother after a divorce or after she is widowed. At first it seemed like the writers were trying to have Cat refer to Thomas as her dad and Bob as her father like in Father Knows Best:
Okay, Agent Reynolds is not my dad. He is my biological father. There is a difference
. But then in that same episode, she called him "Dad"
I'd prefer if Cat referred to Bob as Bob, as she did in Guess Who's Coming to Dinner and only used Dad when she was trying to manipulate him like in Man or Beast. With Thomas gone and things that won't be mentioned here, I really wish they had kept some of the Cat / Heather scenes in the pilot where you find out about Thomas and Cat's relationship. I think it could have added some poignancy to the Cat / Bob relationship.
1st Scene
HEATHER
It's just, Dad's engagement party's going to be hard enough with a date, and --
CATHERINE
Dad's engaged?
Heather realizes she put her foot in her mouth --
HEATHER
He just told me.
CATHERINE
Right, I'm sure I'm next on his call list.
END
2nd Scene
CATHERINE
You know what, you suck. I was so excited to tell you, and now you're making fun of me --
HEATHER
-- I'm not, but you have to know how it sounds.
CATHERINE
I know, crazy, but I also know what I saw. I mean, nothing about Mom's murder made sense. A car-jacking? Those guys
came at us like hired killers.
HEATHER
Maybe it's easier to think that, because then you're not...
CATHERINE
What, to blame? I'm not trying to let myself off the hook.
HEATHER
That's just it, you should. That's what I was saying about you not feeling deserving --
CATHERINE
-- Heather, this isn't about boys.
HEATHER
But you blame yourself. Accidents happen, no one blames you.
CATHERINE
Except Dad.
HEATHER
He's gonna call. He's just...
CATHERINE
Forget I even said that, this isn't about Dad.