Post by stephy on Oct 17, 2014 15:30:43 GMT -5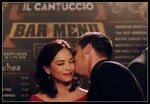 Since this show is still run by same showrunner from last season, you already know which side will that be.Peace!
In all fairness Dan, Catherine's family up until this point has been imo explored a lot more than V's. We've met bio dad, step dad, step mom, her sister is in the picture, then the whole rebecca reynolds storyline. Where the only other person we met from V's family is aaron. Obviously we know some stuff about his deceased brothers but not much.  But both sides of their families need more exploration imho
I like
Dan
want more of Cat's storyline. It was ALLLLL Beast in season 2. Regarding Vincent's family, we already seen his fire fighter brothers, Aaron as nephew, a whole storyline about his ex-fiance ALEX (who is considered family), JT (V bestie), etc. In Reunion which should have been about Cat b/c it was her own high school reunion ended up being all about Vincent again. UGH! His cheating <edited> (while on supposed break w/Alex) which was his friend's girlfriend. Nasty unecessary scene hated it. Not one ex-boyfriend shows up seriously?! All Cat gets is a mention she was into bad boys. I WANT TO SEE THEM.
We've never seen Cat's old boyfriend storyline ever. Or her old cop partner. We don't know much about why Cat is the way she is besides her mom's death. There's so much Cat to explore but she's never given a chance because it's all about Vincent and his needs. Cat placing Vincent's needs before herself. You'll see this examined in 3.04 which explains why they are seeing the marriage counsellor. (Spoiler)
I want to see one of Cat's ex-boyfriends finally or even some half-siblings. For sure, Daddy Reynolds needs to be back b/c him and Cat were great.